Forest Grove Fire & Rescue crews spray down the burned area to ensure all hot spots are out. Photo: Chas Hundley
STRINGTOWN – A small brush fire ignited on Tuesday morning along Stringtown Road near Ritchey Road, burning a small section along the road and damaging one homeowner's wood fence.
Homeowners and fire crews were able to halt the spread of the fire before it reached any houses or outbuildings.
According to Forest Grove Fire & Rescue public information officer Matt Johnston, two homeowners were evaluated on scene by Metro West Ambulance paramedics for minor smoke inhalation received while trying to extinguish the flames.
Firefighters use a variety of tools to battle wildfires, but at this fire, crews were forced to fight not just the flames, but several yellow jacket nests.
Clutching a can of wasp killer while standing near the burned area that still smoldered, Johnston said that the cause of the fire was not yet known. A homeowner and two nearby construction workers said they heard two loud pops in the area prior to the fire starting; fire investigators could not find any firework fragments, and suspect that the flames could have been sparked by an engine misfire, due to the fire's close proximity to a stop sign.
Forest Grove Fire & Rescue crews kept damage to a fence minimal. Photo: Chas Hundley
One homeowner told the Journal that a local resident saw the flames, called 911 and alerted the homeowners.
'I wish I got his name – he's the real hero," she said.
'Wildfires are burning near roads' says ODOT
According to the Oregon Department of Transportation, wildfires along roadsides are becoming increasingly common throughout the state as August nears.
"You may find reduced visibility due to smoke and active fires near the highway, and experience delays," said Darrin Neavoll, ODOT District 7 maintenance manager in Southwest Oregon. "When driving through smoky fire zones, make sure your headlights are on and you're watching for firefighters and equipment, not taking pictures."
According to ODOT, grass along the highways they maintain is very dry, and warn motorists that it is easy for a spark to find purchase in the dry tinder-like material.
ODOT mows along highways they maintain to reduce the risk of wildfire, such as Highway 6, while Washington County Land Use and Transportation mows along local county roads to reduce wildfire risk and improve visibility.
ODOT says there are a few practices drivers can utilize to avoid sparking a roadside fire or how to deal with one when encountered:
— If there's smoke, turn on your headlights and slow down
— If you can't see, carefully pull to the side of the road
— If pulling a trailer, make sure nothing is dragging that can spark or overheat
— Keep your vehicle well-maintained so it doesn't overheat or get a flat tire
— Don't throw things out of your vehicle – like a lit cigarette
— Carry an emergency kit with extra water, food and medications
— Know your route and possible detours
— Pay attention – you need to drive, not take pictures. Especially when there's a fire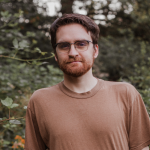 Chas Hundley is the editor of the Gales Creek Journal and sister news publications the Banks Post and the Salmonberry Magazine. He grew up in Gales Creek and has a cat.