Missing for almost exactly a year, the body of Ralph Brown, 77, was found along with his missing car in the Willamette River near Newberg.
The former Hillsboro School District educator, Cornelius mayor, Forest Grove School Board member, and community volunteer vanished last year on May 16, launching an extensive search for the longtime western Washington County civic figure.
Brown's vehicle was found by Adventures Without Limits, a Search & Recovery dive team known for documenting their work in locating vehicles—and sometimes remains—that have disappeared in rivers and lakes.
The dive team released a live stream the following day outlining the details of their extensive search, and shared anecdotes of people who knew Brown throughout his life.
Other tributes poured in throughout the state from local elected officials and others.
The area where Brown was found was first disclosed as a location to search for Brown by the Washington County Sheriff's Office on May 19, 2021.
"Detectives are requesting that anyone who lives along the Willamette River or near Rogers Landing County Park in Newberg to check around for Mr. Brown and his car," the sheriff's office said then in a press release.
View Larger Map
Almost exactly a year after he went missing, his car was pulled out of the river, ending a search that spanned multiple counties, drew federal law enforcement support, and significant media and social media attention.
"The Washington County Sheriff's Office would like to thank everyone who helped in the efforts to search for Ralph Brown, including Adventures With Purpose, Yamhill County Sheriff's Office, Clackamas County Sheriff's Office, Polk County Sheriff's Office, Newberg Police Department, Seaside Police Department, Molalla Police Department, Oregon State Police, Oregon Office of Emergency Management Search and Rescue, Oregon State Park Rangers, Federal Bureau of Investigation, Tualatin Valley Fire and Rescue, Civil Air Patrol, volunteer community members, and many others," the agency said in a May 17 press release.
His body was identified on May 17 by a Deputy State Medical Examiner, 4 days after Brown's remains were located in the vehicle.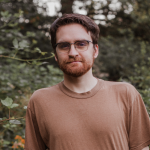 Chas Hundley is the editor of the Gales Creek Journal and sister news publications the Banks Post and the Salmonberry Magazine. He grew up in Gales Creek and has a cat.