Following the retirement of Washington County Elections Division Manager Mickie Kawai earlier this year, Dan Forester was selected to take over the position in late June, Washington County said.
According to a press release issued by the county June 29, Forester's first day in the role was June 27.
Prior to his employment with the county, Forester worked at the Multnomah County Elections Division for eight years, working in areas such as election calendar management, ensuring ballot tabulation accuracy, and as an election systems specialist, among other roles.
"I am confident in Dan's leadership and with his extensive elections experience and knowledge, that he will continue to uphold the integrity, security and privacy of each election cycle for our thousands of Washington County voters," said Washington County Assessment and Taxation Director Joe Nelson. "I would also like to congratulate Mickie Kawai for her retirement and successful history in making changes instrumental to the elections process we are so passionate about."
Forester will be responsible for overseeing a $3 million annual budget and a staff of nine people.
According to Washington County, Forester attended the University of Minnesota-Morris and has lived in Oregon since 2000. Prior to elections work, he worked in the magazine publishing industry for 15 years.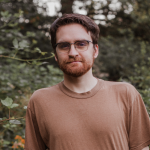 Chas Hundley is the editor of the Gales Creek Journal and sister news publications the Banks Post and the Salmonberry Magazine. He grew up in Gales Creek and has a cat.