The Oregon Department of Forestry plans to reopen the Tillamook Forest Center next year in March.
"Following two difficult years, 2022 looked promising. We are anxious to reopen and host visitors with smiles and an overdue hello," an emailed update from the center read.
"Unfortunately, due to significant staff turnover, recruitment challenges, and facility maintenance requirements the difficult decision was made to postpone re-opening until March 1, 2023," it continued.
Initially closed at the onset of the coronavirus pandemic on March 15, 2020, the ODF-operated facility in the Tillamook State Forest, which closes its doors for the winter, remained shuttered for the rest of that season as the state, nation, and world grappled with the rapid spread of the virus. It had opened for the season less than two weeks earlier on March 4 of that year.
It has yet to reopen.
The forestry department plans to hire additional staff and prepare the shuttered center, located between the Wilson River and Highway 6 in the Tillamook State Forest near mile marker 22, for visitors once again.
The department listed three positions as still vacant, including the role of interpretation/education coordinator, one interpretive & education specialist position, and the visitor services coordinator position.
Newly hired to fill other spots in the team include Mac Erickson, hired as the facilities maintenance coordinator, Stefanie Landman as an interpretive specialist, Grace Demezas as a visitor services specialist, and Teresa Anderson as a facilities maintenance specialist.
Some services are expected to return this month, with limited classes and virtual offerings expected to become available this fall. In the spring, one event is listed so far, a timber culture exhibit on the history of Maxville, a former Wallowa County logging town built in 1923 distinct for being the only town in the county to have both Black and white residents at the time.
At the center, some staff remain available to answer phone calls and emails.
Facility rental requests will not be accepted, and the gift shop remains closed. Also closed is the bridge spanning the Wilson River that links the center with the Wilson River Trail.
When open, the center features a replica fire lookout tower, an interpretive center, a bridge that spans the Wilson River and links to the Wilson River Trail, a theater that shows programs related to the historic Tillamook Burn, and presentations surrounding the history, wildlife, and vegetation of the Tillamook State Forest.
More information can be found by visiting the Tillamook Forest Center website.
To stay up-to-date on the forest center's plans, sign up for the center's email list or follow them on Facebook.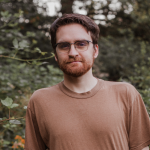 Chas Hundley is the editor of the Gales Creek Journal and sister news publications the Banks Post and the Salmonberry Magazine. He grew up in Gales Creek and has a cat.