The yellow home at the corner of Old Wilson River Road and Thornburg Road in Gales Creek will be used in a training burn Saturday, November 5, Forest Grove Fire and Rescue said.
According to Washington County property records, the home there was built in 1925, a date that doesn't line up with the history and memories of the Ranes family who built it. According to Scott Ranes, a conversation with family members traced the structure's origin to around 1905, when it was built by John Ranes, his great-grandfather.
The Ranes family is one of the old family names in the Gales Creek area, arriving in the valley in the mid-19th century, according to Scott Ranes.
It was purchased in 2021 by Brooke and Andrew Gramer, according to the county. Brooke Gramer serves as an elected official on the Forest Grove Rural Fire Protection District board of directors, which encompasses Gales Creek and is served under a contract by Forest Grove Fire & Rescue. Gramer was first elected to the position in 2019. Grammar could not immediately be reached for comment.
Dubbed a "burn to learn," the home will be set ablaze room by room starting Saturday morning.
Firefighters from Forest Grove Fire & Rescue, Cornelius Fire Department, and the Gaston Rural Fire Protection District will all take part in the exercise, according to FGF&R spokesperson Matt Johnston.
"It'll take several hours to rotate through each burn room as well as let firefighters get experience several times. There will be little visible from the outside during these operations," Forest Grove Fire & Rescue said in a social media post.
Once firefighters have completed this portion of the training exercise, the entire home will be allowed to ignite, sending a column of smoke and flame jutting into the sky.
"These rare training opportunities are extremely valuable for new firefighters that have little or live fire experience in a structure. It also gives current and upcoming company officers experience in supervising firefighters during fire operations. If you're interested in watching, we ask that you park on Thornburg Road," FGF&R said.
The agency plans to complete training at some point mid-afternoon, though the ruins are expected to smolder for several days after Saturday.
This will be the second training burn in Gales Creek in recent years. The "little white house" next to the Gales Creek Church of God in downtown Gales Creek was similarly torched February 1, 2020. Firefighters from Forest Grove Fire & Rescue and Banks Fire District conducted a series of exercises that day, drawing a large crowd of onlookers.
One Banks Fire District volunteer was checked out on-site for minor injuries, but otherwise, the burn went without incident, though the scene of a raging inferno in the middle of Gales Creek was an unusual one. 
Johnston explained in 2020 how these types of burns are conducted.
"We set fires with pallets and straw in each room letting the fires build and warm up. We then let new recruits enter as teams with a senior firefighter to experience the heat, flame and smoke activity. They then extinguish the fire. Make sure nothing spread, clear out the smoke and reset for the next room and group," Johnston said then.
---
Other area fire news
Cow-carrying semi crashes near summit
A semi hauling about 40 cows overturned near milepost 34 on Highway 6 west of Glenwood Tuesday morning, Forest Grove Fire & Rescue said.
The fire agency said that they, along with the Banks Fire District, initially responded to the crash around 10:45 a.m. Upon arrival, crews determined there were no injuries to the driver, but the cows presented a conundrum: They needed to be removed from the trailer, but 40 cows wandering around the summit of the Coast Range wasn't a good option, either.
"We cleared the Banks Fire unit and worked on a plan with Oregon Department of Transportation, Oregon State Police, Washington County Sheriff's Office, farm owners and passerby's with removing the cows out of the damaged trailer," FGF&R recounted.
The group of people, a mix of responding agencies, good Samaritans and farm owners, began the work to get the cows out and safely down the mountain.
Vehicles were arranged to form a makeshift corral, and vehicle extraction tools were used to cut the trailer open.
"It was a slow process because we didn't want them all to get out at once with no place for them to be held," FGF&R said.
It took nearly four hours to free the cows. During the crash, several cows suffered fatal injuries.
"This was a big team effort to get the cows out and involved almost 20 people from various agencies and good Samaritans. We want to thank them all for the hard work in this difficult incident," FGF&R said.
During the crash, ODOT noted that there were intermittent lane closures while emergency crews worked to free the trapped cows.
Active slash burns near Gales Creek Valley don't need 911 calls
Forest Grove Fire & Rescue noted that several slash burns overlooking the Gales Creek Valley were permitted by the Oregon Department of Forestry.
The agency said there was no need to call 911 or non-emergency over them.
"We're out of fire season, expect to see slash & agricultural burns in the area," a social media post from the fire agency read November 2.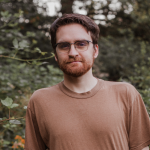 Chas Hundley is the editor of the Gales Creek Journal and sister news publications the Banks Post and the Salmonberry Magazine. He grew up in Gales Creek and has a cat.