Are you interested in transportation—be that highways, public transit, trails, or other— in Gales Creek and the rest of western Washington County? A little-known commission called the North West Area Commission on Transportation (NWACT) is seeking a new member from western Washington County.
NWACT is one of 12 such groups statewide chartered by the Oregon Transportation Commisison. It deals with transportation issues that involve the state of Oregon's transportation system.
That commission is looking for a resident of western Washington County (If you live in Banks, Gales Creek, Gaston, or most of the surrounding areas, that's you!) to join their merry band. The group meets six times a year.
Interested? Read all about it here.
Looking for transportation involvement at a more local level? Washington County's Rural Roads Operations and Maintenance Advisory Committee (RROMAC) generally meets four times a year. If you live in Gales Creek on a county road, chances are, your street has come up in one of their meetings. The group's next meeting dat hasn't yet been set for 2023, but more information can be found online.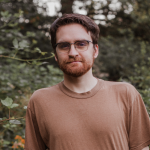 Chas Hundley is the editor of the Gales Creek Journal and sister news publications the Banks Post and the Salmonberry Magazine. He grew up in Gales Creek and has a cat.