Timber sales in the Tillamook State Forest and nearby forests generated $30.5 million for taxing districts in Washington, Tillamook, and Columbia Counties in fiscal year 2022, the Oregon Department of Forestry said.
In a press release highlighting those revenues, ODF also noted the Council of Forest Trust Land Counties annual report, which "highlights the array of social, economic and environmental contributions from approximately 729,000 acres of actively managed state forestland."
The report covers data from FY 2022 including information on timber sales, revenue distribution, the number of visitors to the Tillamook Forest Center—zero, thanks to a COVID closure—and more.
Washington County and local districts received $13.3 million, Tillamook County and districts received $14.9 million, and $2.2 million made its way to Columbia County.
The Tillamook State Forest is Oregon's largest state forest. The forest was once known as the Tillamook Burn following a series of devastating wildfires in the early and middle parts of the 20th century.
Today, the state manages more than 357,000 acres spanning portions of western Washington County and nearly half of Tillamook County, and a separate tract in Columbia County administered by ODF's Forest Grove District.
Now, the forest—dubbed a "sea of green"— includes portions of the Tillamook Rainforest, classified as a temperate rainforest, active timber operations, trails, campsites, the remnants of a century-old railroad and more.
The sale of timber in the Tillamook State Forest and the Clatsop State Forest, Santiam State Forest, and other state-owned forestlands in western Oregon generates millions of dollars annually, some of which pays for the operations of the Oregon Department of Forestry and for recreation and forest road upkeep.
ODF also pulls in funding from the sale of all-terrain vehicle operating permit fees.
In fiscal year 2022, state-owned forests generated more than $97.3 million from timber sales. About 64%, or $61.8 million, went to local taxing districts, while ODF kept $35.5 million.
"Oregonians have a lot to be proud of when it comes to their state forestlands," State Forester Cal Mukumoto said in a press release. "These working lands provide so much to so many, including funding for vital local services, places to connect with nature, clean water, and habitat for some of Oregon's most rare and sensitive species."
By the numbers
The Oregon Department of Forestry highlighted other numbers from FY 2022.
Statewide, the agency saw more than 3.6 million trees replanted on ODF land, hosted more than 26,000 campers at ODF campgrounds such as the Gales Creek Campground and elsewhere, and maintained hundreds of miles of trails.
In the Tillamook State Forest, ODF maintained 149 miles of trail. In Tillamook and Washington Counties, 79,905 total volume by thousand board feet of lumber (MBF) was harvested in FY 2022, the lowest amount from those two counties extracted from state lands in the last five years.
In FY 2021, 117,433 MBF was harvested from Tillamook and Washington County ODF lands.
ODF also said they tackled fish passage issues in the Tillamook State Forest, highlighting the replacement of a failing culvert on Whitney Creek with a bridge.
With the new bridge in place, the creek's connection to the Kilchis River restores fish passage and improves the natural stream sediment transport processes there.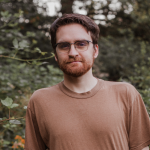 Chas Hundley is the editor of the Gales Creek Journal and sister news publications the Banks Post and the Salmonberry Magazine. He grew up in Gales Creek and has a cat.