The Oregon Department of Transportation is hosting an in-person and an online open house regarding the safety study of the Highway 6 corridor mandated by the Oregon Legislature in 2022.
"We want to hear from you to make sure we're identifying the right safety concerns and areas to focus on in the corridor," ODOT said.
The in-person event will be held in Tillamook Thursday, February 16 from 5 to 7 p.m. at the Port of Tillamook Bay Main Conference Room (4000 Blimp Boulevard).
Online, the open house can be viewed any time, with comments opening starting February 9 through March 2. There, participants can view the details of the study and leave feedback for state transportation planners. Visit the online open house here.
ODOT is required to present their findings to the Oregon State Legislature by September.
The agency previously held events concerning the highway in Tillamook on Nov. 9 and in Banks at Jim's Market on Nov. 11.
House Bill 4053, introduced by State Rep. Suzanne Weber (R-Tillamook) as chief sponsor in the short legislative session held in February and March of 2022, was sponsored by Weber following an especially deadly year on Highway 6. Newly-appointed State Sen. Rachel Armitage​​ later joined Weber as a Chief Sponsor, and the bill gained support from a number of other legislators who signed on as sponsors.
In 2021, a string of high-profile traffic crashes on the Wilson River Highway resulted in numerous fatalities and public outcry over the safety of the highway. According to ODOT data, seven people died on the highway in 2021. Local residents on both sides of the coast range have expressed dismay at the deaths that have occurred on the highway, which, when they occur, usually result in hours-long closures of the route linking Tillamook and Washington Counties and the wider Portland Metro area to the Oregon Coast.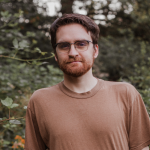 Chas Hundley is the editor of the Gales Creek Journal and sister news publications the Banks Post and the Salmonberry Magazine. He grew up in Gales Creek and has a cat.