An electric charging station somewhere between Seaside and Mountaindale, perhaps in Manning or Buxton.
New guardrails in Glenwood and Gales Creek.
Better lighting and (another) new crosswalk in Banks.
These are some of the local projects proposed in the draft 2024-2027 Statewide Transportation Improvement Program (STIP) issued Thursday, March 9 by the Oregon Transportation Commission for public review and comment.
When approved, the draft will become the Oregon Department of Transportation's capital improvement plan.
"The draft list prioritizes accessibility; helping people safely walk, bike and take public transit; and system preservation," a press release issued March 13 by ODOT read.
An online open house can be viewed online.
There, maps of projects, timelines, costs, and more can be viewed and comments on specific projects can be submitted through April 28. Comments can also be submitted by emailing ODOT.STIP@odot.oregon.gov; in-person at a scheduled open house (Washington County's is Saturday, April 8 from 11 a.m. to 1 p.m. at the Beaverton Public Library in meeting room A); and by attending one of two virtual public comment sessions, the first April 6 from 6 to 7 p.m. and the second April 13 from 2-3 p.m.
Participants can provide up to three minutes of comment. Both will be held via the Microsoft Teams platform.
You can also find the full draft—all 516 pages— online.
We went through the draft and found all the local projects in the Banks, Buxton, Manning, Timber, Gales Creek, Glenwood, and Mountaindale areas.
Gales Creek, Glenwood
OR 6: Roadside Barrier Upgrades
Much ink has been spilled over the safety of Highway 6. People keep dying on the highway stretching from Banks, through Gales Creek, Glenwood, Lees Camp and Tillamook. A report studying the safety and needed repairs on the highway is due later this year.
But ODOT is moving ahead with one proposal they say would help ease the lethality of the Wilson River Highway and make highway infrastructure more resilient in the face of increasing wildfire risk and adverse weather.
ODOT says in their proposal that roadside barriers aid drivers in two ways.
They lessen the severity of a crash (Highway 6 clings to the edge of steep cliffs in many locations in the Tillamook Forest) and help drivers see where the highway's edge is.
ODOT is hoping to replace outdated wooden barriers that won't burn during a wildfire in several locations, and install new barriers at some bridge ends that currently don't have any.
All told, the project would cost $10,890,272.
Reference key number 22983 when providing input.
Banks
Two proposed projects are located within Banks city limits on Main Street, which is also Highway 47, a state-owned route.
Northwest Oregon pedestrian crossing enhancements
"Enhancements will include a mix of signs with flashing lights, intersection lighting and median islands."

– ODOT STIP draft
This project includes more than one location, and one of them is in Banks on Highway 47/Main Street at Trellis Way, near the Banks Elementary School.
"Enhancements will include a mix of signs with flashing lights, intersection lighting and median islands," ODOT said about this project. The total cost—including the Banks intersection and other locations— is set at $364,477. Reference key number 22709 when commenting.
OR47: MP 83.6 Illumination Replacement(Banks)
Or, in human terms, "complete design to replace the lights and poles at this location to provide better illumination," as ODOT put it. The specific location is near the Oak Way and Highway 47 intersection near Jim's Market. The total cost is set at $374,107. Reference key number 22797 when commenting.
Buxton, Manning, Mountaindale
US26: US101 to Nyssa
This one's a bit uncertain in terms of location. ODOT has proposed a fast charging network for electric vehicles on Highway 26 stretching across the state of Oregon from Nyssa in Malheur County at the Idaho Border all the way to Seaside in Clatsop County.
One of those charging stations could end up being placed locally; 50 miles from Seaside puts you just outside Manning on Highway 26. But that's by no means a certainty; just a few miles to the east is North Plains, or perhaps ODOT would consider Banks a better spot, or Buxton, or somewhere in the Coast Range.
The total cost to keep those electric vehicles charged from Idaho to the Pacific? $8,944,000.
Reference key number 22983 when providing public comment.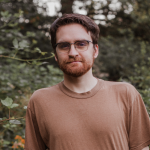 Chas Hundley is the editor of the Gales Creek Journal and sister news publications the Banks Post and the Salmonberry Magazine. He grew up in Gales Creek and has a cat.