The Tillamook Forest Center is scheduled to reopen Friday, March 17, ending a three-year closure spurred by the onset of the pandemic, then extended due to staffing issues.
At the last minute, an opening date earlier this month was pushed back due to adverse weather in the Coast Range, a spokesperson for the Oregon Department of Forestry said.
The Oregon Department of Forestry facility, sandwiched between the Wilson River and the Wilson River Highway near the Jones Creek area, was last open for less than two weeks in March 2020.
It had just opened for the season March 4 when public life ground to a halt in Oregon, the nation, and the world.
The center will open Friday through Sunday from 10 a.m. to 4 p.m. before moving to a five-day schedule starting May 3.
Hours will continue to shift due to seasonal changes and weather-related reasons.
Travers to the center should note that chains may be required to travel on Highway 6. Tripcheck.com lists current travel restrictions in the area.
Those interested in volunteering at the center—the Oregon Department of Forestry listed volunteer positions including information desk greeters, trail ambassadors, and groundskeepers—were directed to the center's jobs webpage.
In the summer of 2021, when much of the state was reopening and lifting restrictions, the center remained closed to visitors. This time, it wasn't just the disease that kept the site closed.
"We have had significant staffing changes over the last year and are focused on rebuilding our team and completing priority projects to improve our operation to better serve our visitors," the center said in a social media post on July 1, 2021. The earliest the center could have reopened was said to be September 1, ODF noted at the time.
The closure continued in 2022.
"Unfortunately, while we've been working diligently toward getting our staff capacity rebuilt, we have not yet been able to fill our vacancies which means that we are unable to reopen the center in the timeframe we had hoped," the state agency said in early 2022.
When open, the center features a replica fire lookout tower, an interpretive center, a bridge that spans the Wilson River and links to the Wilson River Trail, a theater that shows programs related to the historic Tillamook Burn, and presentations surrounding the history, wildlife, and vegetation of the Tillamook State Forest.
More information can be found by visiting the Tillamook Forest Center website.
To stay up-to-date on the forest center's plans, sign up for the center's email list or follow them on Facebook.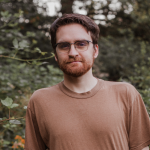 Chas Hundley is the editor of the Gales Creek Journal and sister news publications the Banks Post and the Salmonberry Magazine. He grew up in Gales Creek and has a cat.