Volunteer members of the Gales Creek Cemetery Association have been hard at work sprucing up the grounds in advance of Memorial Day.
According to Gales Creek Cemetery Association President Sandi Evans, recent work includes a brand-new gate at the cemetery's south entrance, a fresh load of gravel on the driveway, trimming of low-hanging branches that were obstructing parking, and maintenance of the lawn.
Visitors to the cemetery can visit the map room, the small red building at the cemetery and flip through a map listing plots and find loved ones there. A bulletin board hangs in the room as well with more information about happenings at the cemetery, and a bench welcomes those who need to take a seat.
New benches outside the shed containing the map room can be found at the cemetery, and water is available onsite for flower vases.
Funds to maintain the Gales Creek Cemetery come from plot sales — the oldest plot dates from 1874 — and from donations. Evans took over the role of president in 2020 from past president JoAnne Schmidlin, who served in the position since 1982.
The Gales Creek Cemetery is located at 7675 NW Soda Springs Road in Gales Creek.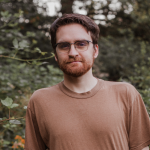 Chas Hundley is the editor of the Gales Creek Journal and sister news publications the Banks Post and the Salmonberry Magazine. He grew up in Gales Creek and has a cat.