For the upcoming November 8 election, the deadline to register to vote or update your registration is Tuesday, October 18.
To register or to make a change to your voter registration, visit and complete the online form at oregonvotes.gov/register before midnight on Tuesday, October 18; in person at the Washington County Elections office no later than 5 p.m. on Tuesday, or with a mailed form postmarked on or before October 18.
Under Oregon's Motor Voter Act, enacted in 2016, many Oregonians of legal voting status who interact with the DMV are automatically registered to vote as a nonaffiliated voter, and will need to update their registration to join a political party or opt out of registering to vote.
On the ballot will be races and measures ranging from the Tualatin Soil and Water Conservation District Board all the way up to Oregon's closely contested gubernatorial race and seats in Oregon's Congressional delegation. 
Those registering to vote must be U.S. citizens, Oregon residents, and 16 years of age or older (anyone under 18 will not receive a ballot until an election falls on or after their 18th birthday). A valid driver's license, permit, or ID number is required, or a social security number or another form of identification. All of the requirements can be found on the voter registration card.
Ballots will be sent to registered voters starting October 19, continuing through October 25, according to the Oregon Secretary of State's Public Elections Calendar.
The Washington County Elections office is located at 2925 NE Aloclek Drive, Suite 170, Hillsboro, OR 97124-7523.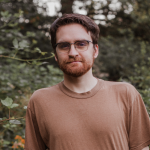 Chas Hundley is the editor of the Gales Creek Journal and sister news publications the Banks Post and the Salmonberry Magazine. He grew up in Gales Creek and has a cat.