The Gales Creek Garden Club will host their annual plant sale in downtown Gales Creek Wednesday from 11 a.m. to 2 p.m.
"Hundreds of plants," was the promise— an assortment of ornamental and food-bearing plants—from garden club members.
The event will also feature a white elephant sale of garden-related items.
The sale is located at the Gales Creek Church of God (9170 NW Sargent Rd)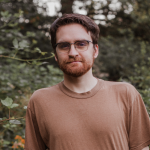 Chas Hundley is the editor of the Gales Creek Journal and sister news publications the Banks Post and the Salmonberry Magazine. He grew up in Gales Creek and has a cat.