The Banks Public Library is host to a 24 hour ballot drop box. Photo: Chas Hundley
WASHINGTON COUNTY – The May special elections will end at 8 p.m. Tuesday, May 21, and according to the Washington County elections office, just 15% of registered voters have turned in a ballot so far.
It is too late to mail a ballot; voters must drop off their signed ballots at a drop box or directly at the elections office in Beaverton.
For those in the Tualatin Valley Fire & Rescue service area, two candidates for position 5 have dropped out of the race—though their names are still on the ballot—in what was originally a four-way battle for one seat.
24-hour ballot drop box locations locally include the Banks Public Library, the Forest Grove City Library, and at the North Plains City Hall.
A full list of 24-hour drop box locations is below, with indoor locations also available during business hours at the listed locations here.
Washington County Elections Office, 3700 S.W. Murray Boulevard, Beaverton (Look for the slot in the front lobby.)
Washington County Sheriff's Office and Jail Parking Lot, 236 S.W. Dennis Avenue, Hillsboro
Banks Public Library, 42461 N.W. Market Street, Banks
Cornelius City Hall, 1355 N. Barlow Street, Cornelius
Forest Grove, Pacific Avenue and Birch Street, Forest Grove
Hillsboro Main Library, 2850 N.E. Brookwood Parkway, Hillsboro
King City – City Hall, 15300 S.W. 116th Avenue, King City
North Plains City Hall, 31360 N.W. Commercial Street, North Plains
Sherwood City Hall, 22560 S.W. Pine Street, Sherwood
Tigard City Hall, 13125 S.W. Hall Boulevard, Tigard
Tualatin City Offices, 18880 S.W. Martinazzi Avenue, Tualatin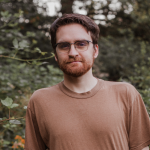 Chas Hundley is the editor of the Gales Creek Journal and sister news publications the Banks Post and the Salmonberry Magazine. He grew up in Gales Creek and has a cat.