Timber Road is closed with no known reopening date, Washington County confirmed, following an earlier announcement that the road had closed between Strassel Road and Cochran Road due to a landslide.
The fourth landslide in twelve months on Timber Road is more serious than the last three, all of which quickly saw county crews reopening the beleaguered road to traffic.
Not this time.
"Timber Road is closed indefinitely between Strassel and Cochran roads, due to slow-moving landslide activity," the county said in a press release.
A photo published by the county showed the outer edge of the road—long time users of the area will know the spot—sunken toward the edge of a steep cliff.
The county disclosed that the landslide was detected on the edge of the road in January "when cracks appeared in the pavement north of the S curves about halfway between Highways 26 and 6," the county wrote in their press release.
Warning signs were put in place, with staff monitoring the site regularly.
"Nearby property owners are being informed; no structures are beneath the landslide area," the county roads department said.
The county said that movement on the slide recently increased, and could cause significant damage if the movement continues to intensify.
With temporary measures in place to close the road, the county will now develop a long-term road closure plan.
"We will complete a geotechnical evaluation to find a long-term solution to stabilize the road before it re-opens," the county explained. "Slow-moving landslides can creep gradually and remain relatively stable until they increase in intensity or a large-scale landslide is triggered."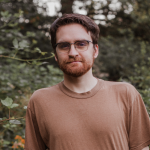 Chas Hundley is the editor of the Gales Creek Journal and sister news publications the Banks Post and the Salmonberry Magazine. He grew up in Gales Creek and has a cat.