An open house at the Balm Grove property along Gales Creek will be held Thursday July 6 from 4 to 7 p.m. to showcase restoration efforts following the removal of the Balm Grove Dam last fall.
"This open house will showcase the result of work and partnership for a healthier creek and fish habitat that will benefit generations to come," the event page for the free open house read.
Attendees were asked to RSVP to give organizers a head count, Clean Water Services spokesperson Shannon Huggins said in an email to the Gales Creek Journal.
Activities for children and adults are planned, with opportunities to learn about the species in Gales Creek—salmon, trout, lamprey and more—and the engineering and equipment that went into the project.
An interactive watershed map will be available, and there will be food for participants as well. Two 45 minute site tours will be available, starting at 4:30 and 5:30 p.m.
Balm Grove is located at 10660 NW Balm Grove Loop in Gales Creek.
More information about the Balm Grove Dam removal can be found from the organizers behind the project and this newspaper's Balm Grove archives.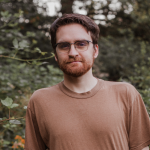 Chas Hundley is the editor of the Gales Creek Journal and sister news publications the Banks Post and the Salmonberry Magazine. He grew up in Gales Creek and has a cat.