Gales Creek is back where it belongs at Balm Grove.
Clean Water Services shared another update on the Balm Grove Dam removal project Tuesday afternoon, outlining what crews have done and what's next.
"Gales Creek is flowing in its original channel at the former Balm Grove Dam location," said the agency, which owns the Balm Grove property that formerly hosted a tavern, picnic site, and recreational dam.
Contractors working for CWS had temporarily rerouted the creek in September at Balm Grove to install several fish habitat structures.
The agency's contractors have planted native grass seed and taken other steps to prevent erosion at the site.
Next, crews will haul away materials that were excavated as part of the project and not used, including river stones and soil.
"However, wood debris containing habitat-rich material will be distributed across the site to slowly decay and provide additional coverage and habitat benefits," an email from the agency read.
Work at Balm Grove is expected to be completed before year's end.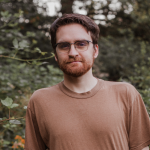 Chas Hundley is the editor of the Gales Creek Journal and sister news publications the Banks Post and the Salmonberry Magazine. He grew up in Gales Creek and has a cat.