By Ginny Van Loo, Tillamook property owner
In my opinion, ODOT needs to quite spending money on tolling and putting that money into road work.
Highway 6 between Tillamook and Banks gets an incredible amount of traffic.
There are so many sunken grades, failed patches and so on. The fact is that doctors, nurses, dental and so many other service people including Tillamook Cheese and Averill and Olson trucking to name a few plus average citizens driving to doctor appointments, farmers hauling their milk and throughout the summer and winter the fishing and hunting communities driving that road as well and of course the thousands of tourists who travel to the coast.
How many wrecks and deaths will it take before ODOT gets serious about the dangerous condition of this road.
It is in the poorest of condition and someone ought to invite the governor to take this route to the coast from Portland just one time.
It's ridiculous and with the huge amount of unexpected money the state budget received, this should be a no brainier.
I bet ODOT has traffic numbers, deaths and wreck numbers.
They need to get to work.
We all should be infuriated enough to write a letter, make a phone call or send an email to your local elected officials like County Commissioners, Mayors, State Senators and Representatives along with the director of ODOT.
The squeaky wheel gets the grease. It's dangerous and needs to be fixed.
Want to write a letter to the editor? Email news@bankspost.com or news@galescreekjournal.com. Include your name, address, and phone number (address and phone number will not be published) on issues, news, and items of concern in the community, and please note the headline of the story you're referencing, if that is the case. Please keep it between 100-350 words. We reserve the right to edit letters for clarity, spelling, punctuation errors, and space. If you have a photo of yourself or something relating to your letter, please include with your letter.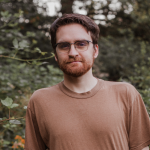 Chas Hundley is the editor of the Gales Creek Journal and sister news publications the Banks Post and the Salmonberry Magazine. He grew up in Gales Creek and has a cat.