In this column, we take a look back one hundred years ago in western Washington County. This week, the clips come from the Hillsboro Argus, published August 10, 1923, with the exception of the clip regarding a freight train crash, which comes from the Tillamook Headlight, published August 10, 1923.
Want more local history? Visit the Banks Historical Society online at www.bankshistory.org for Banks-area history, and Friends of Historic Forest Grove, which often works in the Gales Creek area, online at www.fhfg.org.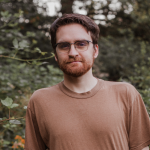 Chas Hundley is the editor of the Gales Creek Journal and sister news publications the Banks Post and the Salmonberry Magazine. He grew up in Gales Creek and has a cat.