This is the last weekend before the Tillamook Forest Center reduces hours for the fall and then closes in November. After Sunday, the center will close for the Labor Day holiday.
When the Tillamook Forest Center opens Friday, September 8, it will be under new fall hours for the remainder of the season before the center closes November 26 for the winter season.
It's not expected to open again until March.
Those wishing to visit the center can do so Fridays, Saturdays and Sundays from 10 a.m. – 4 p.m.
"The reduction in hours allows the newly formed team to catch up on projects from the lengthy closure," the Oregon Department of Forestry said in a press release.
Should the center finish the season out this year—and, barring unforeseen catastrophe, there's no indication that it won't—it will mark the first full season the center has pulled off since 2019.
After just a few days open in 2020, the COVID-19 pandemic saw the center shutter its gates, and, followed by what the ODF said were staffing issues, keep them closed until it opened this spring.
"Activities this summer included a fish release at Cedar Creek, hosting the Timber Culture traveling multicultural logging exhibit from the Maxville Heritage Interpretive Center, and celebrating the Tillamook and Clatsop State Forest 50th anniversary," a press release from ODF read.
More than 15,000 people visited the center this year, the state agency added.
The center has plans for field trips and programs in October and November.
The center features a replica fire lookout tower, an interpretive center, a bridge that spans the Wilson River and links to the Wilson River Trail, a theater that shows programs related to the historic Tillamook Burn, and presentations surrounding the history, wildlife, and vegetation of the Tillamook State Forest.
More information can be found by visiting the Tillamook Forest Center website. A $5 suggested donation is accepted at the door to help fund the operations of the center by way of the State Forests Trust of Oregon, a nonprofit formerly known as the Tillamook Forest Heritage Trust.
To stay up-to-date on the forest center's plans, sign up for the center's email list or follow them on Facebook.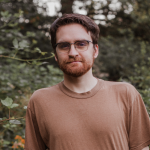 Chas Hundley is the editor of the Gales Creek Journal and sister news publications the Banks Post and the Salmonberry Magazine. He grew up in Gales Creek and has a cat.