Photo: Jerry Willey
GALES CREEK – The monthly meeting of the Community Participation Organization 13 (CPO 13)—which represents Gales Creek, Verboort, Roy and surrounding communities—will host recently elected District 4 commissioner Jerry Willey on Wednesday, February 13 at 7 p.m. at the Gales Creek Church of God.
CPO meetings are open to the public.
The commissioner, less than six weeks into his first term representing District 4, plans to discuss a number of high-level topics as well as locally-focused issues.
And, he said, he plans to listen to what those at the meeting want to talk about.
"What are some critical things that they would like to see or that they are concerned about?" Willey said during a phone call with the Journal.
Willey said he will cover a range of topics that the county is heavily invested in—transportation, affordable housing, homelessness—as well as the different dynamics that are present on the Washington County Board of Commissioners.
The board saw a significant change when Willey, Pam Treece, and Kathryn Harrington were sworn in on January 9 this year. Of the five members, only two, Dick Schouten and Roy Rogers, were previously county commissioners.
"Realizing that there are going to be some new priorities, I think, from the standpoint of not necessarily budget, but certainly where the commission puts a lot of its focus and emphasis. If you would ask the new chair Kathryn Harrington, she would say diversity, equity and inclusion are at the top of her list for incorporating that process into much more of the mainstream policies and the focus of the county commission." Willey said.
"And I don't think she'll get any push back on that."
Willey also plans to talk on more local land-use issues, such as multiple trail proposals in the region, including the Salmonberry Trail, and the Scoggins Dam project.
"Mostly for me, it's going to be talking on some high level stuff and then just say "What do you want to talk about?" Willey said.
In addition to the presentation by Willey, the event will feature public safety updates from the Washington County Sheriff's Office and Forest Grove Fire & Rescue, and will hold nominations for their board of directors for elections in March.
The Gales Creek Church of God is located at 9170 NW Sargent Road in downtown Gales Creek.
CPO 13 is a nonpartisan volunteer-led county organization that interfaces with Washington County to discuss land-use and other issues of importance to their community; CPO 13 meets monthly, alternating between Gales Creek and Verboort, with occasional meetings held in Roy as well.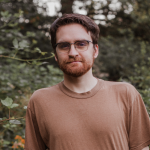 Chas Hundley is the editor of the Gales Creek Journal and sister news publications the Banks Post and the Salmonberry Magazine. He grew up in Gales Creek and has a cat.