The May 17 Primary Election closes at 8 p.m. Tuesday night, and voters must either have their ballots returned to a ballot drop site by then or postmarked by May 17 to be counted.
That's thanks to a new Oregon law that went into effect January 1 which allows mail-in ballots to be counted on Election Day as long as they are in the mail and postmarked by 8:00 p.m.
Practically speaking, that means if you're planning on mailing your ballot in, check your local post office for the cutoff for mail collection before risking it.
Ballot drop sites are located throughout the county, and a full list can be found online.
Locally, voters can drop their signed ballots off at a box located in front of the Banks Public Library main entrance (42461 NW Market Street), in front of the Forest Grove City Library (2114 Pacific Avenue), and in front of North Plains City Hall (31360 NW Commercial Street).
Traditionally, it's been common for newspapers to call races the night of the election or the morning after if it's a close race. The new postmark law could delay results, given that ballots will continue to trickle in for up to seven days after the election, which could swing the outcome of close races.
"The new law will mean that the total number of votes cast in the election will increase in the days following Election Day. These are not "late" votes. Every vote tallied by elections officials will have been cast on time," a press release from the Oregon Secretary of State's office read.
"The new law could mean that very close contests will not be decided on election night. Even if the results come in a little slower, they will be accurate," the press release noted.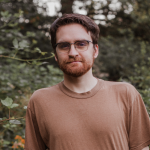 Chas Hundley is the editor of the Gales Creek Journal and sister news publications the Banks Post and the Salmonberry Magazine. He grew up in Gales Creek and has a cat.