On Tuesday, May 16, polls will close on another special district election. That night and the following days after, ballots—picked up from ballot boxes, trickling in through the mail—will be counted, tallied, and the next batch of citizens who threw their hat into the ring to represent local residents on school, fire, recreation, and other districts will be determined.
For our readers, most ballots have candidates for the Forest Grove School District board and the Forest Grove Rural Fire Protection District board, along with a seat for the Portland Community College board.
Forest Grove School Board
Gales Creek, Glenwood, and most of the Hillside community are in the Forest Grove School District, along with Cornelius, Dilley, Verboort, and other communities near Forest Grove.
Two seats on the school board are up for election, and both have attracted one candidate to file for the seat.
Position 4: Kate Grandusky
Running for a fourth term on the board, longtime Gales Creek resident Kate Grandusky said she's seeking another term to keep the board consistent.
"We function well together with our emphasis on the students' needs and the organization as a whole," Grandusky said in an email to the Gales Creek Journal.
"This Board creatively and effectively made it through some challenging decisions during the pandemic and our decisions were made with open communication with the superintendent, staff, and community."
As to her priorities, Grandusky pointed to information in the Washington County Voters' pamphlet.
There, she said advocacy for safe and inclusive schools, monitoring bond and budget dollars, encouraging funding and resources for libraries, art, sports, music, and PE programs, reading and math coaches, professional development for the district's reading program, and the evaluation of a new math adoption were among her priorities.
"Adequate state funding from year to year has been inconsistent which has an effect on what we as a Board can approve and the District implement," she added. Among the main responsibilities of the school board is approving the district's budget.
"When I ran for office in 2011, I had two goals," Grandusky said. "One has been met. The other was to have our Gales Creek Elementary School be returned as our neighborhood school. Whether it is possible, I am not sure, but [the] closure of the school has been a devastating loss to our community. I know that lower enrollment numbers and also a treatment placement would be two hurdles to address to be able for our Gales Creek students to return to this small, rural historical school."
Grandusky, a former teacher herself and parent of two FGHS graduates, hopes to continue the relationships the board has built with school staff and the superintendent, a position the board is responsible for hiring and evaluating.
"I feel that FGSD has a wonderful heart as an organization. The commitment of the staff has been tremendous especially through the pandemic. It is an honor to work with dedicated and committed Board members and an organization that keeps the focus on students and their best interest," Grandusky said.
Grandusky also noted her hope to continue work on the district's policy committee, planning for the new Cornelius Elementary School building, and access to books for children, a priority Grandusky has kept alive in her personal life as well; along with Gales Creek Resident Joyce Sauber, Grandusky can be found Thursday nights in the Gales Creek School, keeping the lights on at the library there for community members to check out books.
"I have lived in Gales Creek over 40 years and this is what I know," Grandusky said. "If you educate the children, we all win!"
Position 5: Kristy Kottkey
Running to replace Narce Rodriguez, who is not seeking another term, Forest Grove Kristy Kottkey is a newcomer to the board, but not to local politics, having previously served on the Forest Grove City Council and a number of advisory boards and committees for the city.
Kottkey said she was running for the board after seeing the seat was in danger of remaining open as the filing deadline drew close. In an email to the Gales Creek Journal, Kottkey said she wants to see diverse representation on the school board and hoped multiple people would run.
That didn't happen.
"In light of that, I wanted to make sure the spots on [the] board are filled by people who have time, awareness of what it is like in the public school system currently, and also someone who is able to understand different sides to all issues," Kottkey said. "I believe I am someone who could offer all three – and I currently have the time in my schedule to serve. I actually loved serving on the council; it taught me so much about the city and about people."
Kottkey teaches in the Hillsboro School District, according to information furnished in her candidate filing form. She also has an 18-year-old son, Henry, who she said has special needs and has had a unique journey in the Forest Grove School District, according to the Washington County Voters' pamphlet.
"My top priorities are to communicate effectively to the community what is happening in our schools, to support a budget that prioritizes real world curricular programs for a diverse group of students, and to ensure that all school staff are supported so that we have strong retention and job satisfaction data," Kottkey said.
Kottkey said she's proud of the work she did on the city council, that it gave her the ability to understand the complexity of the work city staff did.
Asked about new work she might start on the school board, she said she could bring creative solutions to the board. "I am not familiar enough yet with the workings on the board to say I have anything "new" to tackle – but in most systems, I am a person who is able to think of solutions in a creative way that maybe haven't been brought to the table previously," she said.
Kottskey noted her support for helping new people run for the board, having shorter terms on the board—four years is the current term—and for term limits, but also said she supported Grandusky's candidacy.
"It would be nice to have so many people on the ballot that we would have choice in who represents us," she added.
Forest Grove Rural Fire Protection District
Fire and emergency medical services in Gales Creek, Glenwood, Dilley, Hillside, Watts, and other areas outside Forest Grove are provided by Forest Grove Fire & Rescue, but it's actually a distinct board that manages the district's money and makes other decisions like the creation of a volunteer firefighter house in Gales Creek.
Four people are running for seats on that board, and Gales Creek is well represented: three candidates call the Gales Creek area home, while another candidate lives near Verboort.
In position two, incumbent Brooke Gramer is running for reelection to the board for a second term.
Gramer, an experienced firefighter and paramedic and long time Gales Creek resident, is running unopposed.
Gramer did not return an emailed questionnaire in time for publication, and did not submit information to the county to be included in the Washington County Voters' Pamphlet.
Last year, Gramer and her family donated a home to be used in a training burn in Gales Creek, drawing numerous agencies and their firefighters, as well as a contingent of chaplains from across the region to participate.
"These rare training opportunities are extremely valuable for new firefighters that have little or live fire experience in a structure. It also gives current and upcoming company officers experience in supervising firefighters during fire operations," FGF&R said at the time.
In position 4, two candidates are running: incumbent Gary Post and challenger Ryan Wiley.
Wiley, a Gales Creek resident, did not return an emailed questionnaire in time for publication, and did not submit information to the county to be included in the Washington County Voters' Pamphlet.
In paperwork submitted to the county to run for the seat, Wiley said he worked as an operations manager at Intel, and was a staff sergeant in the United States Marine Corps.
Incumbent Gary Post listed an address near Verboort as his home address. Post did not submit information to the county to be included in the Washington County Voters' Pamphlet.
Post filed to run again to "ensure the interests of the rural community have a voice," he said in an email to the Gales Creek Journal.
"Our fire department has multiple needs including decreased response times, increased staffing and retention, possible integration into a fire district, additional fire station, and full coverage for our large unique area," Post added.
A plan to integrate several western Washington County fire districts into one political entity has gained steam in recent years; at one point, Forest Grove Fire & Rescue, the Forest Grove Rural Fire Protection District, and districts centered in Gaston and Cornelius, all which have at some point worked closely together, were working on the possibility of merging, though Gaston has since moved toward maintaining their independence. Banks Fire District, which works closely with Forest Grove Fire in the Gales Creek area on Highway 6 and on calls between Forest Grove and Banks has maintained a more independent stance as well.
"I'm proud of the existing tenure on the fire board during the pandemic, Post said when asked about past accomplishments. He also noted his service supporting Gales Creek and Verboort in Community Participation Organization 13, a county program serving Gales Creek, Roy, and Verboort residents. Post served as chair of the program. He noted his years of volunteer work coaching little league softball.
"Our little slice of Oregon is one of the busiest and most unique. Our local firefighters along with Chief Geering have been excellent and should be applauded for all the challenges overcome in the years prior," Post said.
In position 5, Gales Creek resident Melinda Fischer is filing to run after her father, Dallas Boge, did not file to run again for his seat. Fischer is running unopposed.
"There was an opening on the board, and I was asked to run," Fischer said in an email to the Gales Creek Journal. "There will be a learning curve, so I will be doing a lot of listening and learning. I believe in prudent and effective use of public funds," Fischer said when asked about her priorities.
In a statement submitted to the Washington County Voters' Pamphlet, Fischer noted her numerous positions in local government advisory boards and volunteer positions, including active stints on the budget committees of Forest Grove Rural Fire and the Forest Grove School District. Fischer also served in the roles of vice-president and secretary at CPO 13, is active in the Forest Grove Rotary, served on the Gales Creek Firefighters Auxiliary, Neighborhood Watch, volunteered at the Gales Creek Elementary School, and more.
"I'm very proud of the many hours I put in, hopefully making a small difference in the lives of those students," Fischer said.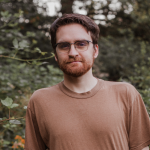 Chas Hundley is the editor of the Gales Creek Journal and sister news publications the Banks Post and the Salmonberry Magazine. He grew up in Gales Creek and has a cat.