The May 16 special district wraps up Tuesday evening at 8 p.m., and according to the Washington County Elections division, 15.8% of eligible voters had returned a ballot as of Monday afternoon.
Voters have until 8 p.m. Tuesday to drop their signed ballots off at one of the many drop box locations scattered across the county.
Still need to vote? Check out the voters' pamphlet here.
Voters can also mail a ballot and it will be counted as long as it received a postmark by 8 p.m. Tuesday.
Locally, a drop box is located in front of the Forest Grove City Library on Pacific Avenue and in the Banks Public Library driveway.
After 8 p.m., ballot drop boxes will close, county elections staff will pick up the ballots and head to the county elections office in Hillsboro, where, along with ballots already counted and ballots still arriving in the mail, they'll be tallied and reported.
The first unofficial reports will come in shortly after 8 p.m.; because Oregon allows ballots postmarked on Election Day to be counted up to seven days after the election, the results of close races may not be known for awhile.
Results will be posted to the county's voter turnout webpage and submitted to the Oregon Secretary of State's office.
The county plans to report vote totals shortly after 8 p.m. Tuesday and again at 10 p.m., then Wednesday, May 17 at 4 p.m., Friday May 19 at 4 p.m., and again on Friday, May 26 at 4 p.m.
The final report will come Monday, June 1 at 4 p.m. when the vote is certified.
Where's my ballot?
Washington County voters can track the status of their ballot through BallotTrax.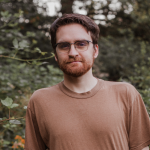 Chas Hundley is the editor of the Gales Creek Journal and sister news publications the Banks Post and the Salmonberry Magazine. He grew up in Gales Creek and has a cat.