You might see people climbing the roof of the Gales Creek School building that houses the Oak Grove Academy in the coming weeks.
That's ok, they're probably supposed to be there.
"They will possibly be doing some repair work this week and then will be doing some coating work towards the end of August," Forest Grove School District Director of Communications & Engagement David Warner said in an email to the Gales Creek Journal.
Of the two main building in Gales Creek, the larger one is the newer building. Built in 1948 and added on to several times over the decades, portions of the building are over seventy years old. The Jennie Ranes building is more than a century old.
In a 2021 assessment, the two buildings at Gales Creek were listed among four Forest Grove School District facilities in unsatisfactory condition. Three are schools and one is the central administrative offices the district's staff operate out of.
The three schools in unsatisfactory condition are all schools outside of Forest Grove city limits; one, the Cornelius Elementary School is being replaced; a new HVAC system was placed on Dilley Elementary School with a crane Wednesday thanks to funds made available from the passage of a bond in 2022.
The Gales Creek School, formally the Gales Creek Elementary School, now home to part of the district's Oak Grove Academy for students with social-emotional needs, behavioral concerns, and developmental disabilities, is also slated to see some of the bond money.
According to the Forest Grove School District, in addition to the roof repair and coating, projects like new HVAC systems, plumbing, lighting, electrical systems, and technology improvements could also be made in Gales Creek and Dilley.
Dilley Elementary will also get a new Pre-K classroom, along with every other elementary school in the district.
More than 55% of voters cast a ballot in favor of the $121 million bond in November. It's expected to increase the tax rate by $1.50 per $1,000 of assessed value.
A full list of proposed projects can be found online at forestgroveschoolbond.com/projects.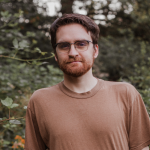 Chas Hundley is the editor of the Gales Creek Journal and sister news publications the Banks Post and the Salmonberry Magazine. He grew up in Gales Creek and has a cat.