The 16th annual Gales Creek Community National Night out, absent since the onset of the pandemic, returned Tuesday night in full force.
Gales Creek residents, visitors, and public safety officials gathered under the shade provided by the Gales Creek School pavilion to greet, eat, and avoid the heat.
Unlike some neighboring versions of National Night Out, the Gales Creek event is an entirely volunteer effort run by various community members, rather than a city or police force.
That's not to say that police and government agencies weren't present; in fact, the Washington County Sheriff's Office graced the event with a UTV, part of the Washington County Sheriff's Office Search and Rescue Explorer Post 877, a hulking vehicle from the Tactical Negotiations Team (A SWAT-type program), and several officers and cadets.
"I think it went really good," said Sheri Bagdonas, who spearheaded the return of the event with a cohort of other volunteers (Disclosure: this journalist also helped plan the event and served as the emcee).
"This is just kind of the opening conversation," Bagdonas said. "We want to continue this to build our community stronger, better, and to get to know each other so that we can be more of a community," she added.
Bagdonas said that the group that put on this event plans to tackle a number of other civic events that have either fallen as a result of the pandemic or are simply struggling due to a lack of volunteers. Next up, she said, is the annual Halloween party put on by the Gales Creek Elementary School Parent Teacher Organization, a group that has survived more than a decade longer than the school itself.
That group, while drastically smaller than it once was, still has managed to put on an annual Halloween party for children in the community inside the gym at the Gales Creek School, along with other events since the school closed.
Bagdonas and her cadre of volunteers also has an eye on resuming the Gales Creek Bazaar, another casualty of the pandemic formally headed by the Gales Creek Chamber of Commerce and the Gales Creek Church of God every November.
Also hoped for in the future: The pièce de résistance of Gales Creek events.
"Hopefully, we'll move on to the Strawberry Festival," Bagdonas said.
Bagdonas' group meets next on Thursday, August 24 at 6:30 p.m. at the Gales Creek School library.
Also on hand Tuesday evening were members of Forest Grove Fire & Rescue, who brought an engine and a brush rig and are still looking for volunteers in Gales Creek.
Also with a table was the Tualatin Soil and Water Conservation District, who provided information on invasive species like the emerald ash borer, an insect expected to devastate Oregon's ash population.
The emerald ash borer is an especially insidious threat for the Gales Creek area: Detected in Oregon for the first time just last year, ground zero for this invasive species was Forest Grove, and it has now been found outside city limits.
Also present were representatives from the Washington County Emergency Management. In fact, of all the National Night Out's (Night's Out?) throughout Washington County, Gales Creek's was visited by none other than Emergency Management Manager John Wheeler, who heads the office. Wheeler encouraged residents to sign up for public alerts for a variety of natural disasters and otherwise.
The state also had a presence, sending a representative from the office of the Oregon State Fire Marshal to spread the word about fire preparedness.
Portland General Electric, while not officially present, did send materials and promotional items.
Several local businesses donated items for a free door prize drawing, including the Gales Creek Tavern, who donated two $50 gift cards, and David Hill Winery, who donated a bottle of wine.
Games for children were on hand, as were booths doing face painting and henna tattoos.
The event ended after 8 p.m., with dozens of community members pitching in to move tables and chairs and break down the event.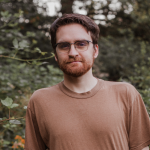 Chas Hundley is the editor of the Gales Creek Journal and sister news publications the Banks Post and the Salmonberry Magazine. He grew up in Gales Creek and has a cat.