A spate of hot weather looms in the forecast: Days of mid-to-upper 90s, with the possibility of triple digits starting Sunday in the Willamette Valley.
According to the the Portland office of the National Weather Service, it's likely that at least five days of 90-plus degree weather will follow.
"Make a plan for how you & your loved ones will stay safe & cool during a heat wave," the NWS urged.
In Washington County, that plan can include locating cooling shelters if you lack air conditioning.
A map noting such locations shows the closest cooling centers for far western Washington County residents to be in Banks and Forest Grove at each city's respective library during their regular open hours, as well as at the Forest Grove Aquatic Center. Other options also include locations in North Plains and Cornelius.
The county has a large amount of tips and resources on a webpage set up for heat emergencies.
The county also listed these tips for staying cool:
Stay in an air-conditioned indoor location as much as you can.
Drink plenty of fluids (water is best), even if you don't feel thirsty.
Take cool showers or baths.
Close your blinds and curtains to keep sunlight out.
If the temperature falls at night, open your windows to let the cool air in (if it is safe to do so).
Use fans but do not rely on a fan as your primary cooling device when it is very hot. Instead, mist yourself with a spray bottle, and then use the fan to get the cooling benefits of evaporation.
Do not use your oven or do laundry on very hot days.
Eat small, light meals.
If you go outside
Drink plenty of fluids. Choose Gatorade or another sports drink if you are sweating a lot.
Wear loose, lightweight, light-colored clothing.
Use sunscreen.
Exercise in the early morning when it's cooler.
Avoid strenuous activity in the heat of the day.
Never leave children or pets in cars. Read more about keeping pets safe in hot weather.
Get a baby pool or play in a sprinkler. Visit a local sprayground or fountain.
If you choose to swim or recreate in a local river or lake, be sure to wear a personal flotation device (life jacket) and take other safety precautions. More information is available on a Red Cross page.
Fire danger is currently at high for ODF-protected lands in the region, though that could change as temperatures rise. The second day that the NWS is warning high temperatures will hit the region marks the 90th anniversary of the Tillamook Burn, which started near Gales Creek in 1933.
In times of extraordinarily hot weather, this newspaper is also a resource for those needing emergency help. This story is free for all with no paywall; please share it with anyone you think may need the information contained within. We can direct anyone who needs assistance to county and local resources as well. Simply email news@galescreekjournal.com or leave a message at 503-395-8131 and we'll be in touch as quickly as possible.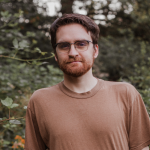 Chas Hundley is the editor of the Gales Creek Journal and sister news publications the Banks Post and the Salmonberry Magazine. He grew up in Gales Creek and has a cat.