With little fanfare, the Washington County Board of Commissioners—who also serve as the Clean Water Services Board of Directors—awarded a $924,950 contract to remove the Balm Grove Dam and do stream restoration work at the site to Biohabitats, Inc. Tuesday evening.
The approval was bundled into the board's consent agenda, a collection of agenda items considered routine and voted on simultaneously. It was passed unanimously.
A summary of the award can be found online.
Biohabitats is an environmental restoration company with offices across the U.S., including in Portland. Also working on the project as a subcontractor is Altap Restoration LLC.
The construction portion of the project will have two phases, starting this summer and continuing in the summer of 2023. During those two periods, the dam and adjacent infrastructure—100 feet wide, 30 feet deep and 3 feet tall, along with an artificial berm—will be removed, 1,200 feet of creek bed will be graded, logs placed in the stream to improve fish habitat, and more. 
Funding for the project comes from several sources, including $364,000 in the Capital Improvements Program in the 2022-23 budget, $320,000 from multiple sources including the Oregon Department of Fish and Wildlife, Metro, National Fish and Wildlife Foundation, and the Tualatin Soil and Water Conservation District, and a $249,000 grant from the Oregon Watershed Enhancement Board. Additional funds are expected to be requested in the 2023-24 fiscal year to make up the shortfall.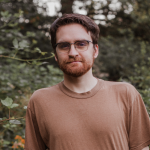 Chas Hundley is the editor of the Gales Creek Journal and sister news publications the Banks Post and the Salmonberry Magazine. He grew up in Gales Creek and has a cat.