A group of volunteers more than a dozen strong pitched in to help landscape the grounds at the Gales Creek Fire Station Saturday in anticipation of a celebration to mark the building's 50th anniversary next month.
"Thank you to the amazing group of community volunteers who came together today in an effort to give our Gales Creek Fire Station a new landscape look," Forest Grove Fire & Rescue said in a social media post.
"It's been a struggle to recruit and retain volunteer firefighters in this beautiful community tucked into the foothills of the Coast Range, and the station's grounds needed a refresh," FGF&R said.
Joined by volunteer firefighters from the Gales Creek Station, Forest Grove and Cornelius, the group moved and cut logs, spread fresh dirt, added new plants, and more.
The station, the sole Forest Grove Rural Fire Protection District facility along with the adjacent volunteer firefighter manufactured home, will host an event June 17, with more details to come closer to that date. Fire and emergency services in Gales Creek, Glenwood, Hillside and other rural communities in the rural areas outside Forest Grove are served by Forest Grove Fire & Rescue under a longstanding contract.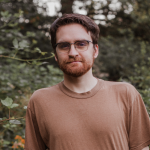 Chas Hundley is the editor of the Gales Creek Journal and sister news publications the Banks Post and the Salmonberry Magazine. He grew up in Gales Creek and has a cat.