Gales Creek's Zephyr Farm will hold an open farm event Thursday, August 10 from 5 to 6 p.m., featuring free fresh veggies from the farm, shave ice, and tours of the organic farm in the Gales Creek Valley.
The event, said farm co-owner Bryan Allan, is a way for locals to meet the farm and farmers at Zephyr.
Children are welcome, but Allan asked that pets be left at home.
Those hoping to attend were asked to RSVP at 503-516-9360.
Zephyr Farms is located at 53247 NW Old Wilson River Road (The old Rath farm, for longtime Gales Creek residents).
More information can be found at zephyr-farm.com.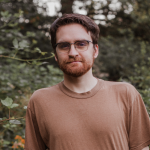 Chas Hundley is the editor of the Gales Creek Journal and sister news publications the Banks Post and the Salmonberry Magazine. He grew up in Gales Creek and has a cat.