Firefighters from Forest Grove Fire & Rescue, Banks Fire District, and the Oregon Department of Forestry responded to a vehicle fire near mile post 33 on Highway 6 Tuesday afternoon, keeping the flames from the vehicle from spreading into the nearby forest.
According to a social media post from FGF&R, crews arrived just before 3:15 p.m. Tuesday.
No one was injured in the blaze, according to Forest Grove Fire & Rescue spokesperson Matt Johnston. The fire resulted in a 25 minute highway closure.
Fire season in the area began Monday morning as the season turns hotter and fuels dry out.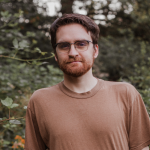 Chas Hundley is the editor of the Gales Creek Journal and sister news publications the Banks Post and the Salmonberry Magazine. He grew up in Gales Creek and has a cat.