Deb Sims held court in the Gales Creek School library for a group of people a baker's dozen strong helping to bring back for another year a long-running Gales Creek tradition, the Gales Creek Halloween Party.
She showed a series of photos from events past for new volunteers, explaining the games-some hand-painted by Sims-and their setup and operation to those who could end up operating them on October 28.
A party thrown by the Gales Creek Parent Teacher Organization for local students who went to the Gales Creek Elementary School has morphed into a gathering for local children who would go to the school if it were still a community elementary school.
Closed in 2011 and reopened as one of two campuses of the Oak Grove Academy for students with unique behavioral needs, the Gales Creek School hasn't been a true elementary school since Barack Obama was president and Robin Williams was still alive, but that hasn't stopped Sims and volunteers Lorraine Wrazen-Heinauer and Corrie Bates from continuing their efforts for elementary-aged children, and the Gales Creek School PTO.
But to make the event work, more volunteers are needed the day of the Halloween Party to set up, run games, and tear down the event.
Those interested in volunteering were asked to call or text Melinda Fischer at 503-502-6523.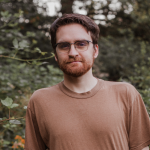 Chas Hundley is the editor of the Gales Creek Journal and sister news publications the Banks Post and the Salmonberry Magazine. He grew up in Gales Creek and has a cat.